Welcome to the Freeport District Library
Our library is located in Freeport, Michigan. We are a member of the Lakeland Library Cooperative, the Michigan eLibrary, and our patrons have access to the Overdrive eAudiobook and ebook downloadables. If you have suggestions for books or movies, please contact the library or email us at fretlb@llcoop.org.
The LIBRARY is CLOSED as of 3 pm, March 16th- March 30th.  Plans are to reopen April 1st unless the COVID19 quarantine for libraries is extended.
per Govenor Whitmer's order
Freeport District Library staff will keep you all in our thoughts.  We look forward to seeing you back at the library soon!

Notary Public Service
If you need a document notarized, the person signing has to be present with a valid, unexpired ID or Driver's License.  Call the library before coming in to confirm when the Notary will be working, 616-765-5181.  This is a FREE service.
---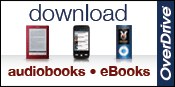 ---
- Work and research from the office or from home, anytime
 - Book reviews, top sellers, author interviews, and news headlines